The date is set! The famous Eyes Wide Sins will be back at a beautiful castle somewhere in the Netherlands on October 27th
27 Oktober 2018 – Eyes Wide Sins
EWS Pré Sale Ticket €49,50
EWS Regular Ticket €59,50
EWS Last Minute Ticket €69,50 (last chance)
Extra HOTEL kamers coming soon!
Dit nieuwe feest zal gaan plaatsvinden in een schitterende locatie in Nederland, waar we een geweldig mooie ambiance hebben voor iets unieks! In dit mooie en sfeervolle kasteeltje waarvan de locatie natuurlijk nog even geheim blijft, zijn er meerdere area's om het spannende en gemaskerde feest tot een ware belevenis zullen maken. Will you be there?
Dresscode met Masker & Cape
Zo'n mooie locatie vraagt natuurlijk ook om de juiste dresscode en deze is zoals gebruikelijk voor Eyes Wide Sins: CAPE & MASKER zijn verplicht tot de middernacht ceremonie.
Dames
De DRESSCODE voor de dames bestaat uit een MASKER en een CAPE met daaronder mooie gekleurde lingerie! Kun je niet kiezen tussen verschillende setjes, dan kun je halverwege de avond jezelf omkleden als je dat wilt.
Heren
De heren dragen onder hun Cape, een zwarte pantalon met zwarte of witte blouse/shirt of chique underwear met stoere schoenen.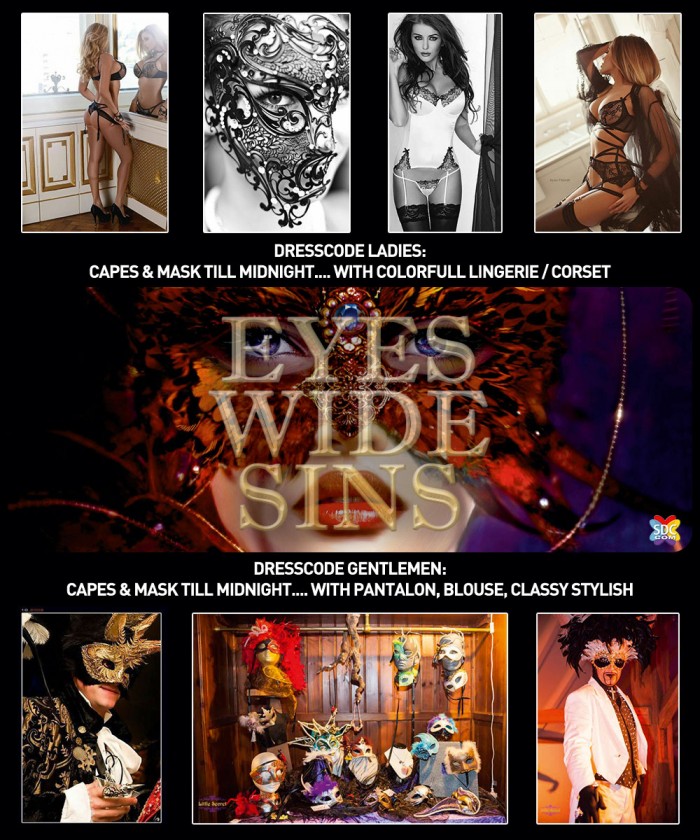 LITTLESINS WILL BRING YOU A NIGHT TO REMEMBER!
At this beautiful castle somewhere in the Netherlands LittleSins will take you to a wonderful place with lots of sexy Sinners, Erotic entertainment, The best DJ's and multiple area's where you will find love and naughty sins.
What happens in the castle, stays in the castle…
WILL YOU BE THERE? Book your tickets now